"Because Good Work Deserves Recognition"
Contest ended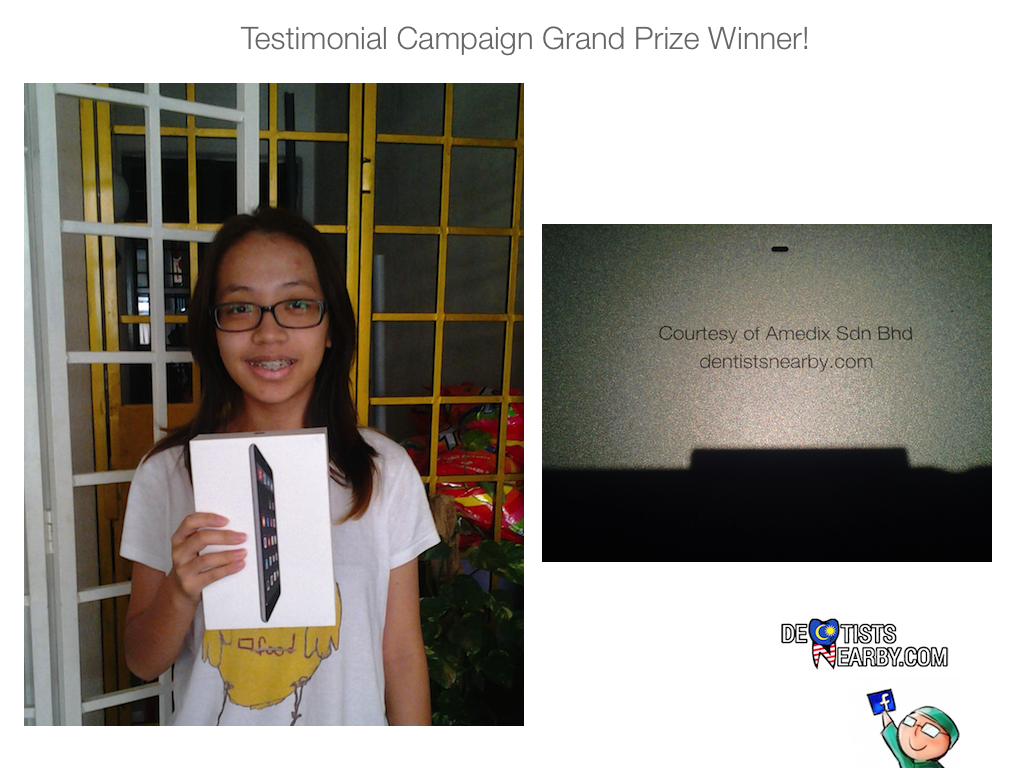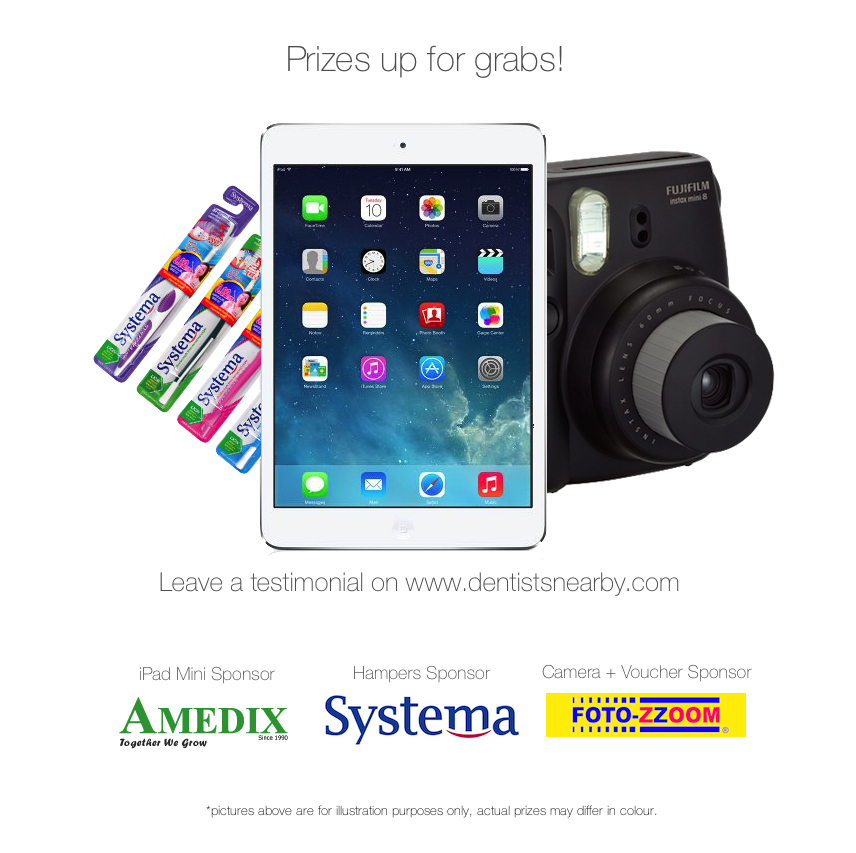 Every 3 weeks, our judges will be choosing the best written testimonial on Dentistsnearby.com and the winner will win one of the following awesome prizes.
Prizes up for grabs
- iPad Mini (16GB, WIFI Model)
- Fujifilm Instax Mini 8
- Systema full variant toothbrush Hampers
By submitting a testimonial, you're already a winner because you will be getting a rm30 voucher to use on FotoZZoom for FREE!

To be in the running for freebies: (in this order)

"Like" Dentistsnearby's Facebook Page (www.facebook.com/dnearby)
Share our official contest post on your Facebook timeline & tag at least 2 friends whom you know have visited a dentist recently.
Head back to www.dentistsnearby.com

Search for your dentist using our search bar.

Leave a testimonial using the same name and information you used to register yourself at the dental clinic. (Use your real particulars as we will be contacting you either through email or phone)

(optional) You can attach a picture of the clinic you have been to along with your testimonial (or a selfie, with the doctor's consent of course). This will increase your chances of winning.

Stay tune on our Facebook page for our announcements of the winners!
Email us at This email address is being protected from spambots. You need JavaScript enabled to view it. if your testimonial is not published within 2 working days of your submission.
FAQs
How do I leave a testimonial?
- It's very easy, just head on to http://www.dentistsnearby.com/2-uncategorised/173-how-to-leave-a-testimonial-on-dentistsnearby.html and there will be a step-by-step guide for you.
I am a patient at a few dental clinics, am I still eligible to join this contest?
- Yes, you are eligible, but you can only leave a maximum of 2 testimonials using your real name and particulars in which you have registered yourself at the clinic.
I am a staff of a clinic, am I eligible?
- Unfortunately no, our apologies. Dentists, Dental surgeons, clinic's staffs are not eligible for this round of contests. But you can still help us spread the message about this because we will have special prizes for clinics who got the best testimonial. :)
I accidentally clicked sent and I would like to delete or edit my testimonial, how do I do it?
- Just send us an email at inquiry@dentistsnearby with your name and your testimonial content and we will delete it for you and you may write a new one.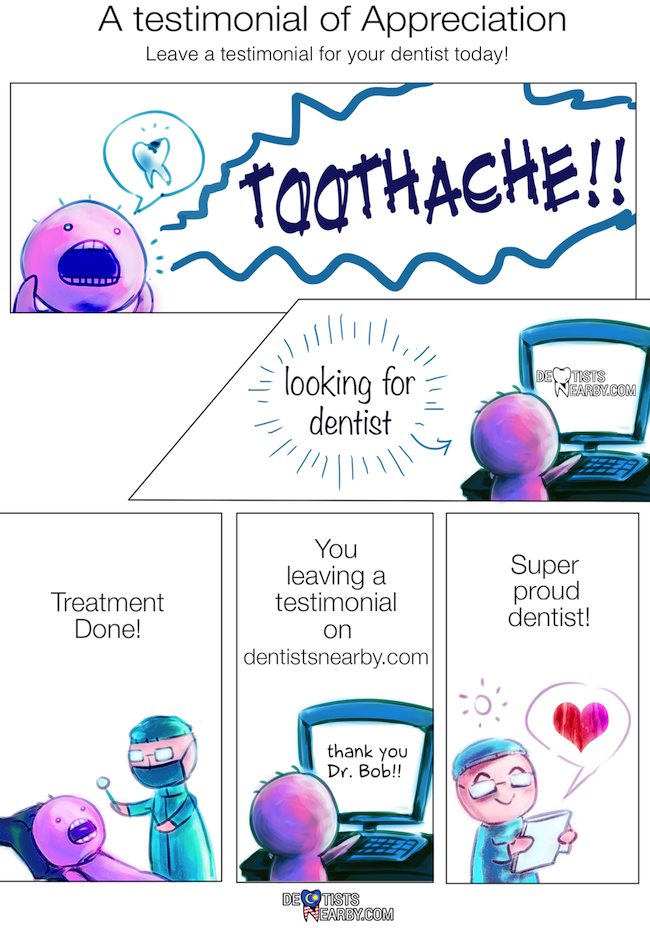 Terms and conditions
- Must be of 18 years and above.
- By submitting your testimonial on Dentistsnearby, you are agreeing to our terms and conditions.
- You must be a patient from the clinic in which you choose to leave a testimonial.
- Staff of a Dental Clinic, Dentists or dental surgeons and their immediate families are not allowed to participate in this contest. (Solely for patients)
- Testimonials can be in English or Bahasa Malaysia.
- Upload a picture of the clinic (Preferably a selfie) - with the consent of your dentist.
- Leave a good testimonial on the clinic's page on dentistsnearby.com. (the clinic you have been to for treatment
- You must use your real name, telephone number and email to contact when won
- Prizes are not exchangeable for cash.
- Dentistsnearby.com reserves the right to keep all contest information confidential.
- For enquiries, please e-mail (This email address is being protected from spambots. You need JavaScript enabled to view it.).
- Contest ends on 31/12/2014, 11:59 pm. Dentistsnearby reserves the sole and absolute right to alter or end the contest duration at any time prior to the expiry of the contest duration without prior notice.
- Winners will be contacted via email or phone. Failure to response or reply to Dentistsnearby; the prizes will be forfeited and will be transferred to another contestant.
- Judges / Results decision is final.
- Dentistsnearby.com does not warrant that the content or services at [www.dentistsnearby.com] for the contest shall be uninterruptible and/or error free. By participating in the contest, you hereby irrevocably and unconditionally agree and acknowledge that Dentistsnearby shall not in any manner whatsoever be held liable for any data loss, interruptions, delays, errors or virus caused to your computer, inadequacies, omissions, delays and/or any error arising from the contest or from the loss of contestants' data or otherwise.
- In no event shall Dentistsnearby.com and her owners be liable for any loss or damage (including, without limitation, loss of income, profits or goodwill, direct or indirect, incidental, consequential, exemplary, punitive or special damages of any party including third parties) howsoever arising whether in contract, tort, negligence or otherwise, in connection with the contest and/or the prizes.
- Please note that these Terms and Conditions may be revised and reissued without notice at any time by updating this posting and you agree that no liability shall attach to Dentistsnearby.com and that you have no right to claim any compensation as a result thereof. You should visit this page regularly to review the current Terms and Conditions, since your continued use of the Site will be deemed as irrevocable acceptance of any revisions. Any such revisions may include extending the Terms and Conditions to include other terms and conditions applicable to other products or services offered by Dentistsnearby.com from time to time.
- You shall assume full liability in the case of any mishap, injury, damage, claim or accidents resulting from your participation in the contest and/or redemption of the prizes.
If you're a dentist, there will also be surprises for you too!
If your clinic is the recipient of the winning testimonial, you will receive a "full-range" Systema Hamper, a mystery prize* from Amedix and a certificate from Dentistsnearby!
Testimonial Campaign Sponsors (thanks for your support! :D)
Disclaimer: Apple,Apple Logo,Amedix,Systema,Systema/Lion Logo,FotoZZoom,FotoZZoom Logo,Fujifilm are Trademarks of their respective companies. Dentistsnearby does not own any of the registered trademarks of the products.