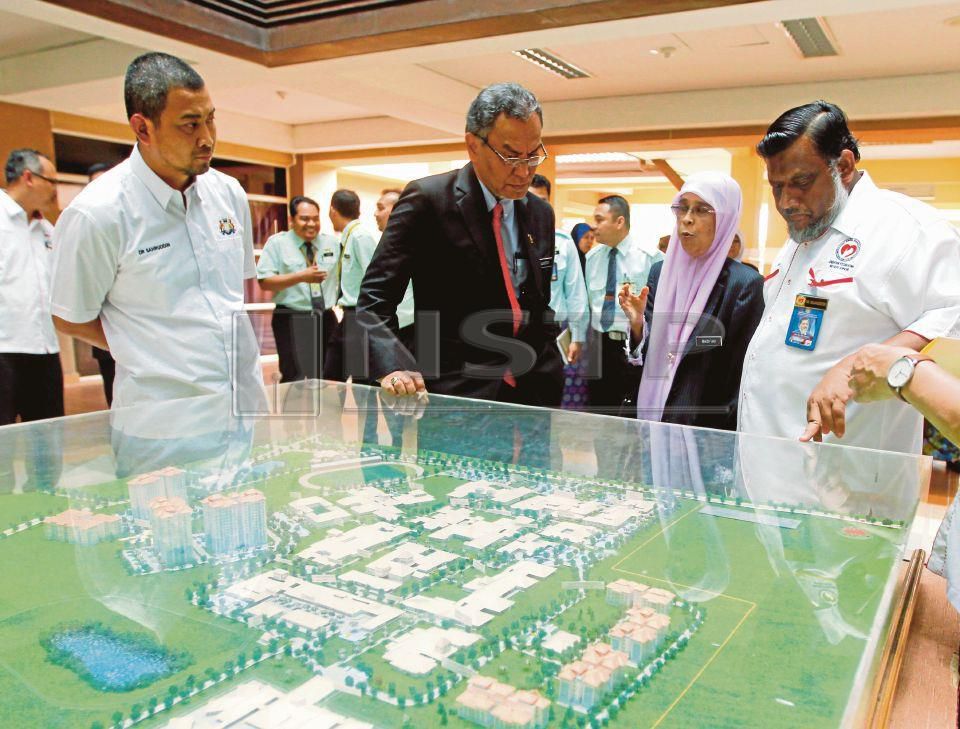 JOHOR BAHRU: Kementerian Kesihatan Malaysia (KKM) akan mengambil tindakan terhadap kewujudan klinik pemutihan gigi haram yang berselindung sebagai pusat kecantikan gigi yang didakwa semakin berleluasa.
Menterinya, Datuk Seri Dr Dzulkefly Ahmad, berkata pihaknya ada menerima laporan berhubung isu berkenaan, namun KKM tidak menerima aduan yang membahayakan kesihatan.
"Sejujurnya, saya tidak mendapat apa-apa maklumat mengenai perkara ini, tetapi kita faham sudah ada laporan mengenainya.
"KKM akan ambil tindakan dan kita akan buat pemerhatian," katanya ketika sidang media dalam lawatan kerjanya ke Johor di Hospital Permai di sini, hari ini.
Beliau berkata demikian ketika diminta mengulas berhubung laporan eksklusif BH hari ini yang melaporkan kewujudan klinik pemutihan gigi haram yang berselindung sebagai pusat kecantikan gigi dikesan kian berleluasa sehingga dikhuatiri mengundang pelbagai risiko kesihatan kepada pelanggan.
Pusat kecantikan gigi yang dikesan di Lembah Klang itu dikenal pasti menawarkan khidmat pemutihan gigi sejak enam bulan lalu yang dipercayai tidak berdaftar dengan KKM.
Dr Dzulkefly berkata, produk pemutihan gigi adalah dikawal berdasarkan peratus kepekatan hidrogen peroksida dalam bahan pemutihan yang dikawal Biro Farmaseutikal Kebangsaan Malaysia, KKM.
"Setakat ini, tiada aduan yang diterima mengenai kesan lain atau kesan sampingan yang tidak diingini," katanya.
Difahamkan, tahun ini, sebanyak tiga sijil pengamalan tahunan ditarik balik oleh Majlis Pergigian Malaysia disebabkan kesalahan etika dan lain-lain.
Orang ramai yang ingin memutihkan gigi juga dinasihatkan supaya mendapatkan rawatan pemutihan gigi daripada doktor pergigian yang berdaftar dengan memastikan status pendaftaran pengamal pergigian itu di Sistem Pengurusan Informasi Pengamal Pergigian (DPIMS) atau menghubungi Majlis Pergigian Malaysia di talian 03-83186440 atau e-mel ke This email address is being protected from spambots. You need JavaScript enabled to view it..">This email address is being protected from spambots. You need JavaScript enabled to view it..
Source : BH Online
---
---
---
Other News :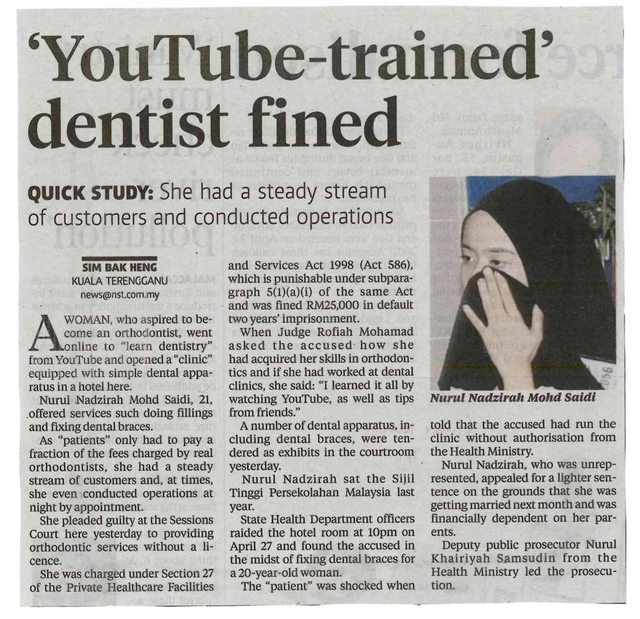 Fake dentist gave herself away
MELAKA: Nur Farahanis Ezatty Adli, the woman at the centre of the fake dentist controversy, lodged a police report claiming that two patients did not pay her for dental services she provided.
It turned out to be a self-inflicted "injury" as it put her on the radar of the state Health Department, which started tracking her.
Eventually, enforcement officers from the department raided the homestay where she was offering unlicensed orthodontic services on Jan 25, after gathering enough evidence against her.
But she remained unrepentant, continuing with her "business" even after the raid.
Nur Farahanis, 20, from Taman Bukit Baru Jaya here, lodged the report at Melaka Tengah police headquarters on Aug 12 last year, alleging that two customers failed to settle a payment of RM700.
The report suggested that she was already fitting braces at age 19, when she was a student at a vocational college here.
That was when the department raided the homestay.
A 38-year-old restaurateur in Jalan Hang Tuah here said Nur Farahanis set up a "consultation space" at his premises and more than 10 customers came to see her in just a few hours sometime in mid-June.
"Her father asked me to give his daughter a chance to promote her services and I obliged," claimed the man, who requested anonymity.
He said she earned RM6,000 in a day by offering packages of RM650 for full braces and RM350 for a partial fitting.
"Her customers were mostly college students. There were also a number of working people who came to see her," he said, adding that she paid him a token sum for using his restaurant as a base.
However, after he learnt that she had been the target of a raid earlier, he shied away from any further association with her.
"She carried out the illegal service even after the raid. I won't allow her to use my premises again," he added.
Melaka Health, Sport Develop­ment and Anti-Drugs Committee deputy chairman Datuk Ng Choon Koon said the Health Department "had no intention of victimising anyone" and would not take action against innocent parties.
"The Health Department's responsibility is to eradicate such illegal services and we have acted against other fake dentists before," he added.
He said there were five other people – three women and two men – at the homestay during the raid.
He added that the enforcement officers also seized several items at the scene, but a receipt book they confiscated was allegedly grabbed by her parents following a ruckus during the raid.
Ng said a 43-year-old dental officer from the Health Ministry also lodged a police report on Jan 26 over alleged intimidation by one of the woman's family members.
A man who was getting his braces fitted during the raid said he was recommended by a friend.
Ahmad Firdaus Abd Hafiz, 25, claimed he approached the woman voluntarily and never lodged a report with the Health Department or police but was asked to sign a document because he was present during the raid.
"I gave her RM300 for her services, although she never asked for any money," he claimed.
A check at the homestay yesterday found it closed.
One of Nur Farahanis' customers, who wanted to be known only as Julie, said the fee was much lower than what dentists would charge.
"It's definitely less than the RM2,000 a dental clinic would charge," she said, adding that she may now have to see a proper orthodontist to remove the braces after reading about the case in the media.
Source : The Star Online
---
---
Another Related News Article :
Fake dentist gets 2 years' jail, RM100,000 fine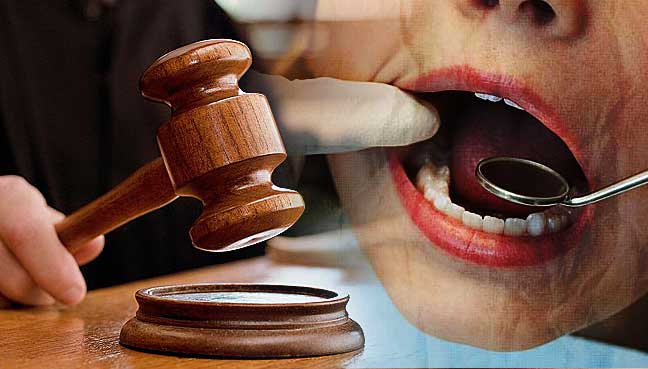 KUALA LUMPUR: An online cosmetics dealer was sentenced to 24 months' jail and fined RM100,000 by the Sessions Court here today after being found guilty of operating an unlicensed dental company and carrying out procedures to install fake braces.
Judge Harmi Thamri Mohamad @ Shaharuddin sentenced Fatin Nabilah Mohamad Hassan, 26, after the defence failed to prove reasonable doubt in the prosecution's case.
The court ordered Fatin, who was absent from court today, to serve the jail term from the date she reports herself to the prison and to serve another 12 months' jail if she failed to pay the fine.
The court also rejected the application by lawyer Khairul Amin Abdullah, who represented Fatin, to postpone the imprisonment and ordered Fatin to pay the fine immediately.
Khairul told the court that his client was unable to attend as she was undergoing acupuncture treatment at the Melaka Hospital for a slipped disc two weeks ago.
However, today's proceedings continued as the court had given sufficient time of more than two weeks for Fatin to manage her health.
Deputy public prosecutor from the health ministry, Nurul Khairiyah Samsudin, who prosecuted, said Fatin had failed to submit a medical certificate from a government health clinic confirming that she could not come to court for health reasons.
The judge said the offence committed by Fatin was a serious one and should be taken seriously by all parties as it affected the health and safety of the public.
"The public should also come forward and provide information to the health ministry if they have knowledge of any unregistered individuals who carry out fake braces installation procedures," he said.
Fatin was charged with operating a private dental clinic without registering under Section 27 of the Private Healthcare Facilities and Services Act 1998 at a hotel room in Jalan Metro Pudu 2, Fraser Business Park, Kuala Lumpur, at 12.10pm on Dec 11, 2015.
She is charged with committing the offence under subsection 4 (1) of the act and punishable under subparagraph 5 (1) (a) (i) of the same act, which provides for a fine not exceeding RM300,000 or imprisonment of a maximum of six years or both, upon conviction.
Nine prosecution witnesses and four defence witnesses were called to testify during the trial, which began in May 2016.
Source : FMT