The human mouth is a tough environment for any restoration. So, the cement you choose needs to be tougher in order to survive. That's why, for nearly 50 years, dental practitioners around the world have trusted the clinically-proven family of 3M™ RelyX™ Cements.
Designed for strength, usability and reliability, RelyX cements deliver high performance on virtually any kind of indirect procedures. Its ease of use will surely help you concentrate on your patient rather than your cementing technique.
This month, in conjunction with the 50th anniversary of 3M™ Dental Cement Innovation, we're pleased to offer you an amazing deal for 3M™ RelyX™ Cements Package at 10% discount!
The RelyX Cements Package includes the following items:
3M™ RelyX™ Luting 2 Cement (1 box)

The convenient, versatile and easy-to-use 3M™ RelyX™ Luting 2 Cement eliminates hand-mixing while offering higher bond strength than the conventional glass ionomer luting cements. Suitable for a wide range of everyday applications, including PFMs, metal & pediatric crowns and restorations on implants.

• 5-second tack light cure feature for "clean-up on demand"
• Sustained fluoride release for pediatric and geriatric patients
• A good choice for pediatric restorations
• Higher bond strength than conventional glass ionomer
• Virtually no post-op sensitivity

3M™ RelyX™ U200 Resin Cement (1 box)

For simplicity, convenience and reliability, 3M™ RelyX™ U200 Resin Cement is your "go-to" product for many reasons. It is the world's most clinically proven self-adhesive resin cement. Thanks to the dual-cure, self-adhesive chemistry, Unicem cements deliver high adhesion, resistance to discoloration, long-term stability and more:

• Saves time by eliminating etching, priming and bonding steps
• Virtually no post-op sensitivity
• Strong

3M™ RelyX™ Ultimate Cement (1 box)

When you need extra-strength bonding without the hassle of complex adhesive systems, choose 3M™ RelyX™ Ultimate Cement in combination with 3M™ Scotchbond™ Universal Adhesive. You'll get a versatile and reliable adhesive cementation that's fast and easy to use - all with just two components.

• Proven to be industry-leading in bond strength
• Fast and easy procedure with only two components
• Total-etch, selective etch or self-etch procedures
• First-class esthetics with natural fluorescence
A promo code and the package price will be shared with you via email once you've registered your interest. Click on the button below to get your promo code.


If you do not have an existing account with 3M, click here to open one


Click on the links below to learn more about the products:
Sell sheets:
• Clicker: Ultimate Product
• Clicker U200 Product
• Clicker: Luting 2 Product
Clinical studies:
• Dental Advisory study of 3M™ RelyX™ Unicem Self-Adhesive Resin Cement over 15-years
• Dental Advisory study of 3M™ RelyX™ Luting 2 Adhesive over 6-years
• Dental Advisory study of 3M™ RelyX™ Ultimate Adhesive Resin Cement over 5-years
Clinical case summaries:
• Restoring function and esthetics with a single-unit, implant-based restoration
• Full-arch reconstruction integrating three different cements
• 3M™ RelyX™ Ultimate Adhesive Resin Cement – posterior crown
• Single anterior ceramic crown cementation with 3M™ RelyX™ Ultimate Adhesive Resin Cement: perfect shade match
Technique videos:
• RelyX Luting Plus clicker cementation PFM crown
• RelyX Unicem clicker cementation zirconia crown
• RelyX Ultimate clicker cementation glass ceramic crown tack cure technique

Contact us today to learn more about the clinically-proven and easy-to-use family of 3M RelyX cements: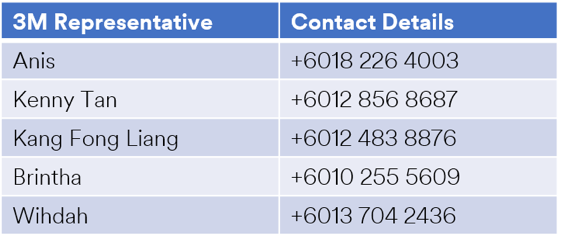 Terms & conditions:
This promotion is applicable for private clinics and/or dentists only. Strictly not applicable for government clinics and/or dentists.
This promotion is valid until 30 September 2018.
New account openings and all purchases will be fulfilled by 3M Malaysia's authorized distributor, Summit Company (M) Sdn Bhd.
3M Malaysia Sdn Bhd reserves the rights to amend or change the terms and conditions at any time without prior notice