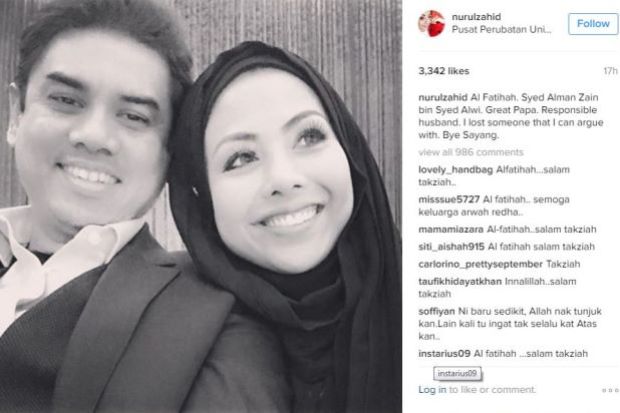 12 August 2016 - Doctor Pleaded Not Guilty Of DPM's son-in-law Death
Extracted from The Star:
KUALA LUMPUR: A doctor claimed trial in a Sessions Court here to a charge of manslaughter in the death of the son-in-law of Deputy Prime Minister Datuk Seri Dr Ahmad Zahid Hamidi.

Dr Ting Teck Chin, 36, pleaded not guilty of culpable homicide not amounting to murder under Section 304(b) of the Penal Code for the death of Datuk Syed Alman Syed Alwi on June 1.

The alleged offence took place between 6pm and 7pm at a dental centre in Jalan Telawi, Bangsar.

Dr Ting, who is an Obstetrician/Gynaecologist, faces a 10-year-jail term, a fine or both.

Sessions judge Zainal L Saleh set bail at RM20,000 with one surety.

It was reported that Syed Alman fell unconscious while undergoing surgery at the centre.

He was rushed to University Malaya Medical Centre where he was pronounced dead.

In Facebook posting in June, the dental centre said Syed Alman's surgery was performed while he was sedated.

"It was a procedure that involved minor oral surgery under sedation with the presence of a trained medical practitioner," said the dental centre in a statement.

It said it made the statement to "dispel any public speculations or misconception as to the incident".
Timeline :

1 June 2016 - Son-in-law of Zahid Hamidi passes away
PETALING JAYA: Datuk Syed Alman Syed Alwi, the son-in-law of Deputy Prime Minister Datuk Seri Dr Ahmad Zahid Hamidi, passed away on Wednesday night. He was 44.
His wife, Datuk Nurulhidayah Ahmad Zahid, 37, posted a picture of the two on Instagram on Thursday and expressing her grief at the loss of Syed Alman.
"Al Fatihah. Syed Alman Zain bin Syed Alwi. Great Papa. Responsible husband. I lost someone that I can argue with. Bye Sayang," posted Nurulhidayah.
Friends and relatives arrived at University Malaya Medical Centre (UMMC) on Wednesday night following news of Datuk Syed's death.
It is learnt that Syed Alman fell unconscious while undergoing dental surgery at a clinic in Bangsar at around 6pm before being rushed to UMMC.
A family member said that his body would be brought to a mosque at Country Heights, Kajang.
A few VIPs were spotted at the UMMC Emergency Unit and mortuary including Umno secretary-general Datuk Seri Tengku Adnan Tengku Mansor and Armed Forces chief General Tan Sri Zulkifeli Mohd Zin.
It is learnt that Ahmad Zahid was on his way back from Japan where he was attending the 34th Japan-Malaysia Economic Association (Jameca) and Malaysia-Japan Economic Association (Majeca) Joint Conference.
14 June 2016 - Cops finish probe into death of DPM's son-in-law
KUALA LUMPUR: The police have completed taking statements from witnesses on the death of Datuk Syed Alman Zain Syed Alwi while undergoing dental treatment recently.
Deputy Inspector-General of Police Tan Sri Noor Rashid Ibrahim said the reports would be handed over to the Attorney-General's Chambers for recommendation.
"We are only waiting for the expert report, which will take some time as this matter falls under the hospital," he said when met at the handing over ceremony of Hari Raya goodies from the Welfare Association of Wives of Ministers and Deputy Ministers (Bakti) to security forces yesterday.
Syed Alman Zain, 44, the son-in-law of Deputy Prime Minister Datuk Seri Dr Ahmad Zahid Hamidi reportedly lost consciousness during surgery at a dental centre on June 1.
Read More about Sedation Here

Source: The Star (Malaysia)